When It Makes Sense to Invest into Web Design Services

Whether you're starting a brand new website from scratch or want to revamp your existing website, web design services come in all shapes and sizes. You can decide if you want to outsource the design of one page, every page, or something in between.

Want custom graphics and help with branding, too? No problem. You get to decide what services you need or don't need, making web design a flexible service to match your needs.

Regardless, you're in complete control of the scope of the project.

So, it makes sense to invest if look and feel is an important part of your new website, you're looking for an affordable way to change up an existing website, or you're ready to take your site to the next level with a custom design.

And when you start making enough to warrant a custom website, we recommend freelancers and small local agencies rather than massive large-scale agencies.

Why? Because the cost is more reasonable and you'll get a more personalized experience. If you're comfortable spending $5,000 to $10,000 on your website, this is definitely the way to go.

But if that's outside your budget, not all hope is lost. You can still invest in a site builder or theme that looks great out of the box.

You don't have to learn anything about web design or development, making it an excellent choice for beginners. Plus, there are 800+ pre-designed templates you can use to get started.

Because of those templates, you don't have to spend thousands on a professional designer, which is particularly helpful if you're just starting out.

Wix's drag and drop interface is incredibly easy to use and you get complete design freedom to create whatever you can imagine. On top of that, there are dozens of add-ons to increase your website's functionality.

Want to add an online store? No problem!

Maybe you want to add an online scheduler, a blog to attract more visitors, or an online menu so visitors can order online and pick up in-store.

The possibilities are endless, despite being an intuitive site builder that's suitable for beginners and anyone without extensive web design knowledge.

You can control the size and placement of everything, including text, images, videos, shapes, and more. It's truly one of the easiest and most customizable website builders on the market.

As such, you can create a truly customized experience minus the headache.

Another standout feature is the Wix ADI (artificial design intelligence) tool. All you need to do is answer a few questions about your new website and the tool will automatically build the entire thing for you in just a few seconds.

From there, you can customize the auto-generated content with your own images, colors, fonts, text, and more to make your website truly one-of-a-kind.

The best part, though? You can try Wix for free… forever.

It's an excellent way to try it out, but the free plan is extremely limiting and you can't connect your own custom domain. So, it's not a long-term solution, but it far outshines a temporary free trial.

Whether you're looking for a personal website or a full-featured business page, Wix has everything you need and a variety of plans to suit users of all shapes and sizes.

This is an excellent way to avoid themes that aren't compatible, have low rates, and are outside your budget.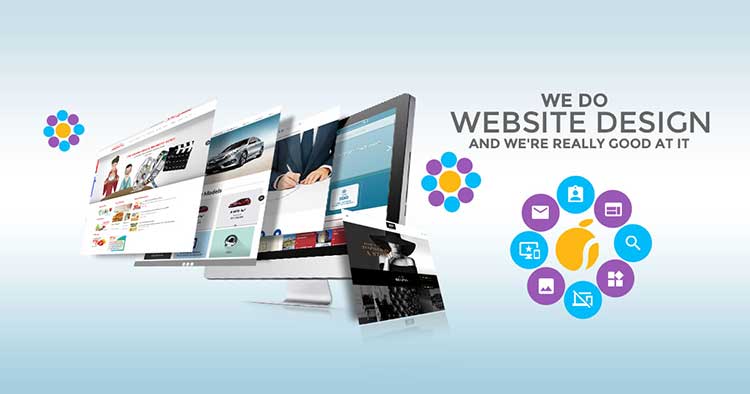 So, it's more critical and beneficial to pay close attention to theme functionality and overall layout instead of colors and other things you can change later.
Website mock-ups & design
Our world class design team brings concepts to life in our mockup process. Interactive feedback tool and revision rounds add value and help us manage the design process as a team.
3. Website development
Our expert web design and development team builds your approved designs into the industry-leading drag-and-drop system for easy updating and ongoing maintenance. All sites are always fully responsive for all screen sizes and devices.
4. Revisions & launch
Our revision rounds are an opportunity for us to work with clients to key in any changes to the development link prior to launch, we work until it's perfect.
Experience award-winning web design
A top web design is more than an "About Us" and a "Contact" page. It's how you communicate.
It's how you show off your products and capabilities and most importantly, it's how you convert leads. A ( CTA ) call-to-action strategy needs to intuitively guide your visitors through your brand story and products or services.
The user experience and user interface need to make them engage, take action and convert. An integrated blog and easy to use CMS needs to feed them content and dynamically update those static web pages.
Ebooks, videos and other micro-conversion opportunities need to to be reaching out to those conducting research and analysis (Check out our ebook on "10 questions to ask before starting your web design project").
If you are going to redo or just plain do this website thing, let us help you do it right.
You need to analyze the competition, create content that matters, communicate effectively and convert your visitors.
You probably just wanted a brochureware website. Don't fret, designing your website right doesn't cost you extra, it just takes choosing the right web design company and asking for the right features…
But doing it wrong might cost you everything. Let Vital Design's experienced team of web design professionals take you on this journey, the right way.
I mean seriously, we built 60 plus websites last year, we know what we're doing.
Vital's award winning web design and development team builds the best websites on the web. Our years of web design experience have led to a results driven process that ensures successful outcomes.
We start with analysis, research and planning followed by architecture, wireframing and content creation.
Once completed we move on to award winning web design and SEO driven content including copywriting, photography and video.
With the planning behind us, the design and content assets in place the website development stage begins. Our development process takes place on the best website platforms and use the best web development languages.
We add tools and applications that produce results. The end result, award winning website design, strong SEO and a website ready to take on any inbound or digital marketing strategy you can throw at it.
A top web design takes experience and process:
Collaborative design process
Award Winning Web Design
Built-in SEO best practices
Easy to use CMS
Responsive Web Design
Ecommerce & Application Development
Rigorous analysis and reporting
The best web designs take planning, experience, talent and execution. Make your competitors jealous and look like a fortune 500 company work with Vital's team of digital marketers on your next web design.
We think you and the Internet are going to get along great. Ask us your questions about your next web design project.
Website Design & Development Services
Your website is your business's online home. It's the place that potential customers go to when researching your business and the products and services that you offer.
It's also the place where potential employees understand your business better, including your and credibility within the local market. It's therefore, it's critical for your business's long-term success that your website truly represents your brand.
VIET SEO has been building websites for businesses located around the world since 2005 and have a vast portfolio of clients, from homegrown businesses to multinational companies.
We also provide a range of Performance Optimisation services for businesses that need support maximising their return on investment for websites.
We can assist you with CRM integrated websites, as well as e-commerce sites if need be. Whatever your business's requirements are, VIET SEO is equipped with the best solutions on the market, whether you need a completely new website or the revamping of your existing one.
Our agency has an IT team and content producers and designers who can cater to your website. By having a well designed and developed website, you will increase your customer conversion rate, among many other benefits. VIET SEO can provide custom themes that are fit with integrations, plugins, HTML, your choice in software.
Even if you do not plan to sell online, a well-designed website is very important. That's the opinion of Tim W. Knox - founder, president and CEO of four successful technology companies: B2Secire Inc., a software management company; Digital Graphiti Inc., a software development company; Sidebar Systems, a software development company for media outlets; and Online Profits 4U, an electronic business that aims to help start-ups and developers start online businesses.
My company is very small, it consists of me and two more employees, and our products can not be sold online. Do I really need a website?
This is a good question. In fact, this is one of the most important and frequently asked questions in today's digital age. However, before answering, please review for the first time when I was asked this question. It was around 1998, the first years of the Internet.
We work closely with our clients to ensure they are satisfied with the result and provide ongoing maintenance support if required.
Website Designing Services
If your business aims at reaching potential customers faster, you need a website!
Web design company in Faridabad, India play a significant role when it comes to your business growth beyond geographical boundaries. Hiring the services of a professional web design company enables you to develop an impressive website.
It also takes care of the promotion of your website besides making it user friendly.
Starting with logo design, graphic design, web hosting, today web designing services can extend up to multimedia presentation, video shoots, flash design and even online marketing and many others.
Following a professional approach is needed here because every project involves a number of complexities at every step.
VIET SEO, a leading website designing company in VIETSEO can assist you to overcome these hurdles and brings you hassle-free website design services.
If you aspire to operate your business on web, get a website created by a professional company.
The best benefit of taking professional help for web designing is that it enables you to take your brand global which you may not be able to.
Believe in our web design service team to create a unique, user-friendly and powerful web design that represents your company image in the best possible light. VIET SEO Interactive web design company delivers great results ensuring your brand gets connected with your clients.
A world-class website design will make your company more competitive online and help your customers find out the information they need about your organization.
As a top web designing company in Faridabad, we work with clients from different industry segments.
It is always our goal to create a web design with a perfect balance of form and function. With our web design service VIETSEO, your brand will get noticed in no time! We are a web design company that will ensure your brand gets noticed.
How We Do it?
A web design service company assists you with a number of designing activities that make your strong online presence.
It can incorporate multimedia presentation for making it stand out. As a responsible web design company in Faridabad, India we provide professional services that contribute to your business success.
The main purpose of taking website design services from VIET SEO is that we put in exhaustive efforts to build the online presence of your brand so that it becomes easily noticeable among your target audience.
At VIET SEO, all our efforts are dedicated to make your brand an established one and convey the message right off.
Web site designing may appear simple but it is equally challenging. Aiming at providing world class solutions, we specialize in desktop and mobile. We focus on giving your brand excellent search engine visibility.
Latest Trends in Website Designing
No doubt web designing is popular activity on the web but it has also experienced drastic changes in the past few years.
The previously worshipped rules for web designing like grid, closed composition seem to lose their importance with the time. Top Web Design Companies in India are including latest trends because they seem leaving lasting impression on users.
Through my work in digital marketing and web design and development, I've learned the signs that will help tell you which companies to avoid.
Ultra-Cheap Rates
Unfortunately, bargain-basement rates are the kryptonite of many people who want websites but have little to no knowledge of how things work in the world of web design.
The moment they see that a web design company is offering very low rates compared to the competition, they jump at the chance.
The problem with cheap web design rates is that you will most likely pay for barebones web design. If you want specific features and functions added, you may have to shell out more for them. You will, in all likelihood, spend more money on your website in the end.
To get an idea about fair professional web design rates these days, do some research of your own. You can also ask friends and family for recommendations.
Full Payment Upfront
Would you trust a web design service provider that requires you to pay for your website in full before they do any work on it?
Legitimate web design companies ask for a deposit. The client and the company will then agree on a payment plan that will run until the website is up and working. Steer clear of any web design company that demands payment in advance.
Too Much Tech Mumbo-Jumbo
I've found that many of my clients don't know a lot about designing websites, which is why they're looking for a professional web designer in the first place.
Some web design companies, however, tend to use a lot of tech-speak when pitching their plans for the project to the client.
More often than not, clients end up agreeing to things they barely understand, but they have to pay for them anyway because the web designer said so.
But what if the tech-speak was just a way for clients to spend money on bells and whistles that they don't really need?
If you know little about web design and a prospective web design company sounds like it's dazzling you with lots of tech mumbo-jumbo, give that company a hard pass and look for another one that will speak to you in plain, simple English.
Web Design-Only Companies
There was a time when getting a website built meant hiring a web designer for its aesthetics and a separate web developer to make sure it functioned well.
That is no longer the case these days, as a web design company is now expected to offer both web design and web development. Don't hire a web design company that only offers to make websites look good and nothing else.
CMS Not Included
Every website that you pay a web design company to build should have a built-in CMS or content management system. Consider yourself tricked if the website you got from a web designer doesn't have one.
A CMS-less website means editing its content is going to a problem that can only be solved if you reach out to your web design company and get them to edit it for a fee.
Steer clear of web design companies that do not incorporate CMS platforms such as WordPress and SharePoint, or Magento in the case of e-commerce sites.
Nonresponsive Design
The world is a very mobile place, with smartphone and tablet users far outnumbering desktop users. You want your website to display well across all screens, so don't leave your web design in the hands of a company that doesn't do responsive web design.
If you see any or all of these signs in a prospective web design company, run the other way, and find ones that offer the exact opposite.
Do you know that 70 to 90% of your site visitors may leave your website within 3 to 4 seconds without showing interest in your product or services, and you lose all these potential opportunities? Is your existing web design company able to understand this
Your Website is not appealing enough when compared to your nearest competitors.
Your website's overall design, graphics, and navigation are not modern.
The webpage content copy is not user-centric and engaging.
The website is not mobile responsive and has a weak performance.
The website fails to build trust and connect to your Brand.
Fully Responsive Sites
With the average consumer spending roughly 20% of their day in front of their phone.
We apply our responsive web design services effectively by taking a mobile-first approach to design ensuring our client's websites are responsive, optimized for search engines, and contain great content.
Affordable Website Design Services
Regardless of the size of your business, the opportunity to gain greater exposure within your consumer market sector is ever present.
It is important to consider whether or not your existing business website design is significantly hindering or helping your online marketing position.
With professional web design services, you can get an attractive website that is highly functional and optimized.
At Siren Digital Marketing, we offer exceptional, affordable web design services to significantly elevate your brand image and visibility online.
If you need small business web design services, or a more advanced website for your enterprise business, we have you covered.
Our web design professionals can provide you with managed web design services, corporate web design services, and more.
For more information about our affordable, custom web design services to help you elevate your business contact our full service web design agency today for a no obligation consult.
So dynamic web has many advantages such as easy information management.
Communication and interaction between people and computers, web upgrades and maintenance so it is possible to build large websites.
However, the fee for dynamic web design is high and it is necessary to add specialized personnel to be able to develop the best web.
So if your company is big, want to focus on developing e-commerce websites to sell, introduce products, be able to use and exploit large web, then choose dynamic web to bring more business potential. and most developed for the company.
So when you choose and trust the website design, what benefits will you get?
than.
Create a consistent message about the brand (online and in real life): the website is like the face of the company so a standard website with software techniques will show the class and reputation of the company. ty.
Create available sources of information about enterprise products / services so that users can easily find and reference.
Deploy on different platforms because now is the time of information technology development.
And this is the time when a beautiful, interactive design website will help you make the best impression on them!
University web design and the benefits are both great
Universities today are constantly updating the trend in perfecting their websites to not only attract students but may also be beneficial in many other activities.
Owning hundreds of modern design interface templates, fully integrated functions help you can easily manipulate editing as desired. What if you're too busy and can't optimize everything yourself?
Don't worry, CHILI's customer service team will always guide and support you throughout the time of using the product.
SAVE TIME
CHILI will assist you in importing data for the first time, designing banners and managing your website throughout. With the simplicity and effectiveness of the tools, you can control everything at the website quickly and take the time to grow your business.
COST SAVINGS
For a very chestnut price, you can own CHILI website with all the necessary functions. In addition, you no longer need to spend too much money to hire designers or operators because CHILI has all supported.
BECOME A PROFESSIONAL
Owning a website will help your business or individual increase its reputation greatly. Website is also the face of the brand, a professional website will confirm your position with partners and customers.
Viet SEO was born with the mission of giving individuals and professional websites an impressive impression with the lowest cost to help businesses optimize their business, promote their products and services, brands in a competitive market. paintings today.
Business areas
Viet SEO has become a leading destination for providing website design solutions to individuals and businesses to optimize business, promote products and services.
Viet SEO always put the service quality first, maintaining a good relationship with customers as the two "good" factors to build a sustainable brand.
Oriented development
Viet SEO focuses its resources on popular website design to meet the tastes of the majority of users in the market, affordable website design, ensuring full of useful features for online business shops or start-up owever.
We focus on product diversity is a vital factor to meet the increasingly demanding customer needs, so Viet SEO always promotes and develops the website segment in accordance with the cost price.
Commensurate with the quality of website design.
Premium quality, professional services, innovative innovative products, optimal costs
Viet SEO products are always developed based on market driven demand, optimal programming technology, and user friendliness. The products are of unique professionalism, lasting benefits and lasting value.
Viet SEO provides state-of-the-art programming design solutions, enthusiastic consultant, design team accumulated many unique creative interface ideas, the website always works stably.
We always aim at the most cost-effective service packages for customers, Each website is sticking with the level of creativity in its true value to value.
High quality popular website. The web is programmed by experienced technicians, the product always ensures high aesthetics but still optimized for search engines full of seo tags.
Product features keep pace with the trend - Technology changes every day so our products are constantly updated to bring new features and smooth experience for customers.
Integrating optimal functionality into each website design project
Contrary to some businesses often rely on customer ignorance to deliberately ignore important features to cut staff costs. Each Viet SEO project must meet all the necessary technical criteria of a modern website whether you require it or not:
Website must be friendly with search engines Google, Yahoo, Bing, Ask, Yandex, coke ... easily appear in the top, your customers will find you more easily.
Website must optimize display on all devices with screens: smartphones, tablets, laptops, desktops, imac 5k, giant screens> 30 inches, projectors ...
Website must have perfect features, no errors, omissions in any user operation
Website must have the most appropriate and beautiful interface design
The design of the Website is completely proprietary, Viet SEO is absolutely not for use by any other customers
Website must be absolutely secure with malicious and malicious elements
Website design company in Hanoi Professional 2019 is the address many customers are businesses, retailers to find professional website design for themselves.
Think carefully and wisely before "choosing to send a golden face" to the face of the business or yourself on the internet.
And for a quality website means you will have the trust of customers in sales or increase the business value for customers who are far away from the company.
The first step in getting started with designing a website is the domain name. Domain name (or Domain name) can be understood as the name of your website it is used to replace a long and difficult to remember IP address eg 126.99.102 on the Internet to change it into an easier-to-know vatgia name.
In addition, depending on the purpose of different web use, the domain name will be different eg; ; … .
Please note that your domain name must be unique, unique, important to impress customers and communicate your brand as well as meet the memorable criteria for convenience for customers to use. use and search.
To start a business, any website needs a clear domain name. And usually domain registration will cost you a quarterly, annual or few year fee.
2- Choose hosting where:
In a nutshell, hosting is the web hosting place to sell your goods online! Often we will need to buy hosting from the domain name provider network.
In the era of cloud computing, choosing an appropriate hosting service, running well and importantly, meeting the needs of the website is an important factor. Important decisions affect the ability to download the web. We can refer to the following three basic types:
As a home service company, your website is arguably your most important marketing asset, and if it isn't growing your business, it's time for a new one.
Consider this: More than 3.5 billion Google searches are made every day. In the digital landscape of today's business world, every company needs a website—it acts as your virtual sales rep 24 hours a day, seven days a week.
If your website isn't mobile-friendly, is outdated, doesn't convert visitors into leads, or simply isn't up to your satisfaction, you need professional website design services from a home service marketing company that makes the process easy.
Website Copywriting
Your website should be your #1 sales and marketing tool for your business. Does your website's copy represent your best pitch?
If you need compelling, SEO-friendly copy and content for your website, we will deliver it.
Our in-house copywriters have written thousands of web pages for contractors and target the right keywords to make your website more visible on search engine results pages. Learn more about our website copywriting services.
Click to View Our Web Design Portfolio!
Wondering why your competitors are outperforming you? It most likely has something to do with their website and what's on it:
Your website needs to be visible – When we say visible, we mean in search engines like Google.
Over 90% of online experiences begin with a search engine, so your website needs to be optimized for the best search engine optimization (SEO) practices. When you choose our website design company, you're guaranteed to have a website optimized for SEO.
Your website needs to be mobile-friendly – 57% of all US online traffic now comes from smartphones and tablets, and 57% of users say they won't recommend a business with a poorly designed mobile site.